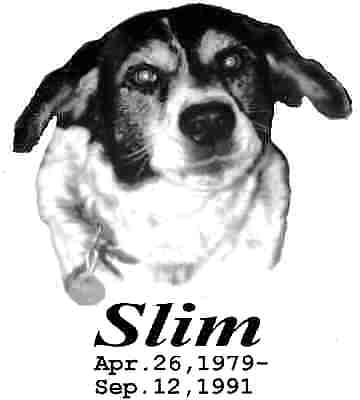 I fondly remember how we used to dress Slim up in various types of "clothing," rarely in one of db's old wool sweaters that had shrunk due to a careless washing, and a pair of her old jeans shorts (she was quite thin in the hips when she was young); and at Halloween we would get him up in various disguises (antlers; a wig; pig ears--he wouldn't wear the snout; he'd wear anything that would fit tightly and not slide around on his body; if it slid, he'd tear it off). But most typically, simply, he'd wear a bandana around his neck, nearly every day, which gave him character and sort of changed his appearance in the same way that our human clothes do for us. We had assembled a rather large collection of bandanas: the typical red and blue "paisley" ones, a similar pink one, an American flag, a Confederate flag. [No, he wasn't a "white dog," he was black and white, by which I mean the color of his markings, but maybe he did harbor an unconscious agenda, but an unbiased one, I think, equally applied to everyone, in that he was fiercely loyal and obstinate, as is typical of the breed (German short-haired pointer.) Hmmm. Oh, no! Is this a retro insight? Did I once own a Nazi dog?] The neighbors never liked him too much and were always wary of him, because, specifically trained for this purpose, he would bark and growl at anyone approaching the house or property, though when they arrived, he couldn't prevent his tag from wagging as he eagerly approached the visitors who, if they were not dog-knowledgeable and able to read the body language, might think he was ferocious. He was not, usually. He was a pussycat, except when you would approach him while he was eating, which I loved to tease him about, sneaking up on him and taking his food (slowly and carefully, so as to guard myself against injury, but also to prolong the moment and extend his nastiness). I did this mostly as training and as a test, to make sure I had control over him, to prove to him and myself that I could take his food away any time I wanted to, whether he liked it or not, to prove to him and to myself that I, not he, was the dominant dog, all of which probably served to reinforce the growling behavior, and perhaps even initiated its onset. I actually taught him to growl on command. He obeyed the commands 'growl' and 'bark' in addition to all the standard ones. (He even learned to sit by the door and say "rowl-rowl" in a soft and plaintive "voice" when he wanted to go outside.) But these kinds of growling cues made the neighbors less than trusting of him, which was okay with me. It served to keep people at a certain distance and I felt that he protected us, especially at night, which was frequently punctuated with short, tentative whelps when he heard, or thought her heard, some noise outside. I was always half-awakening to monitor growling situations and ascertain that all was okay, and then sometimes having to tell him so, because he'd keep it up if I didn't.
Got up at five-thirty pm after seven hours of sleep, worked for a while (until nine-thirty), ate, watched a bit of local tv, the local news, and then went back to bed, trying to catch up on sleep and adjust my sleep schedule to a daylight one, because each day this week I've been telling myself that I would go out shopping in the morning after working all night, and each morning, with rain threatening, I've decided that I was too tired and would postpone the outing. Not this time. I forced myself to go back to sleep, after I awoke several times during the night, wanting to get up. (It's actually not today, but tomorrow, that I am writing this.)
For the last several days I've been awakening out of dreams to the quasi-imagery of an HTML editor, as if my dreams were coding and editing my daily life like I would code and edit a web page. Strange.
Shopping day finds at Big Lots: A 25 ft. self-coiling air line that'll be perfect for my airbrush setup ($2.99); Wire strippers ($2.88)--no more stripping wires with an Exacto knife; a surge protector for the computer with a $50,000.00 equipment warrantee (so they say) ($5.99); two 50 ft. extension cords ($4.99 ea.); a circuit tester ($0.88)--good deal; a ratchet drive to replace the one in my socket set that takes forever to switch between ratcheting directions because you have to play around with it so much to make it catch hold ($2.99); and, an air brush [single action, with two feed bottles, air line, fittings, etc.; $7.99. This last item is completely unnecessary, and I feel like I shouldn't have bought it, but it's such a good deal, and I need a less exacting one that the double action I have, for certain types of work (I really don't need it, if I'd learn how to use the double action properly, but the subtleties of that movable (variable feed) trigger elude me]; and I need a more exacting one that the cheap brush I have that is nothing more than a simple spray paint gun.

While surfing the net, I ran across a Cambridge University site that explains cosmology. Now, I realize that scientists are not so educated in letters as other lower forms of life may be, it hardly being a concern with them, as long as they feel they can communicate adequately. But when bad grammar gets in the way of the point you are trying to make, well, maybe it's time for a remedial English course. There are many instances on this site where simple grammar and the writing style interfere with the comprehension of the text. It's hard to believe that such a prestigious place as Cambridge would allow a document this riddled with grammatical error (and typos) to appear before the public. I can understand the typos (well, maybe I can't, really), but bad grammar is unforgivable. Don't they have a Department of English tucked away in some dusty corridor somewhere that could proof these pages?

Other than the grammar problems, though, this was a good source of cosmic information. I was looking for an explanation for why cosmic background radiation hasn't yet passed us by and been lost in the reaches of space beyond us. This is an understanding that has been eluding me for quite some time. But I think I got it (sort of) figured out now, thanks to this site. It's still a little nebulous (heh!) in my mind, but I'm starting to grasp it. Part of the difficulty, I think, lies in the fact that I want to think of the background radiation as being an "event" that happened ten billion years or so ago, now sitting "out there" beyond the field of deep space objects, way back in cosmological time; and it is that, but only by virtue of the fact that the radiation created by the event [which is no longer extant in that place, perhaps unlike at least some of the deep space objects, which may still actually be there, if only in non-luminous, i.e., dead, form] is traveling away from us and thus constituting a ever-receding radiation belt. But, the belt is also traveling toward us and beyond us, and in fact is spread across the whole of the universe; the background radiation that we are able to perceive is not "out there" at all, but here, and everywhere else, speeding past us every day--and for how long? When the "event" happened, it happened everywhere, and the radiation from it spread, just as our stars and galaxies are spreading yet today, along with it. The radiation that we experience doesn't come from out there (beyond the deep space field) any more than it comes from other locales. When will it end? When will there be no more of it remaining? Whew! It boggles the mind. It's like trying to think of light as both a wave and a particle. It doesn't make sense, but I keep thinking that it should. I'm missing something. I can't get a perspective on it. But I'm getting closer. I can just feel it.

Back to sleeping days after the several brief shopping excursions. It's hard to resist that long afternoon nap when you haven't had all that much sleep the night before. I tried to resist it, staying up far too long this morning, occupying myself with routing an air line from the compressor in the basement to the studio upstairs so that I don't have to keep running downstairs to fill the portable air tank, a practice that has been discouraging me from doing much airbrush work.

This afternoon, before I fell asleep, I outlined in my mind a correspondence between (my) visual art and writing: when I was young and writing, drawing, painting--creating, I stumbled along then, expressing myself, sometimes well, often inadequately. I created stories, sometimes all at once, sometimes painstakingly; but always, after their creation, I worked painstakingly at them, to improve them, bit by bit. And I did the same with visual expressions. But they were a bit different, mostly by virtue of the fact that they were more "visible." There was not so much an all-at-once process that could be later refined. I stumbled less because I took my time more, never proceeding on to the end until each step of the way had been full and more perfectly realized. So that I looked as if I were a better artist than a writer--to someone more objective than myself, because I thought that what I wrote was just fine and I only see it more objectively now in retrospect; whereas in retrospect, my paintings still look okay to me, well-done, well-formed.

But as the years went by, still stumbling with method, I learned how to write more effectively, as I developed my style. But I stopped drawing and painting and only went back to it for very brief periods, only to become increasingly frustrated with it because I could not do it fast enough, like I now wrote, but had to plod along, a perfect bit by bit at a time.

So this is the conclusion I come to: since I wrote, nearly every day, in my journals at least, if not in any other way, I developed the speed of written expression that I now enjoy; but I never developed a speed for visual art, because I didn't practice it. Therefore, if I want to develop a visual artist, I must do two things: 1) practice, every single day--and I will slowly grow in speed and style. This is obvious. What is not so obvious (to me) is 2) decide that I really want to do this. Art is a rendering of the experience of the artist. An artist turns his environment/experience into art. I do this naturally with words. I've always used words to render my experience, even when I didn't call it art, back before I knew what art really was, when I was very young and thought that art was a product an artist created, instead of a process an artist engaged in.

I do not, however, render my environment/experience so naturally with images. I can remember back to a time when I had almost started out in that direction, but I continued on with words instead. This false start was with photography, when I could frame a scene and make it express something I was seeing/feeling. I can still readily do this, but I disregard the talent, mostly for lack of accessibility to a medium. Darkrooms are so cumbersome, and developing services even more so and without the immediacy of control. But with digital photography, I might pick up on this natural talent again: 1) if I had a camera, which could be somewhat expensive, given that I would want one with the most advanced properties and controls; 2) if I had adequate an storage facility, because I would want to take lots of pics and do lots of editing, and probably, at least for a while, keep the intermediary stages of the editing process; 3) if I could justify the expense of equipment and supplies to make high-quality prints and/or: 4) if I could maintain (at a cost) a large capacity website to display my work. Lots of conditions in this direction prevent me from pursuing digital photography like I might want to.

Anyway, photography aside, images constructed in other media do not so much reflect myself, mostly because of the translation effort, which changes the original insight/experience. Not that I dislike the results; I like them very much, and appreciate the (accidental) talent, and the time and effort that I put into them. But in every case, my works of visual art are never quite what I started out to do (as opposed to my photographic art, which always turns out to be exactly what I wanted, and sometimes even more than I expected).

The discrepancy between the vision and the finished product is significantly reduced by practice. A daily routine could take me where I want to go, if I decide that this is really where I want to go. Visual art is space-consuming. You have to have a place to put the finished work and the developing projects. (Words are space-efficient.) I don't have (so much) space. I could make do, in some esoteric way, piling it up like the lady (in the Midwest) who bought an old bank and decorated it with her art, which she has piled up along the walls and incorporated into the design of the building and its furnishings. I could manage something similar; but it would take a lot of time and patience and daily application. Then I could begin to communicate in images as well as words, and I suspect that, then, I might have something very different to "say."

So, anyway, after trying out the new airbrush by connecting it to the portable tank and ironing out the bugs (air leaks), I started to think about how I would get a more reliable air supply. I thought about bringing the compressor upstairs, but it's too damn noisy, and there isn't the space anyway. So I turned my attention to the airline. I had a line in the basement I could have used, but I had it permanently connected to an impact gun, and I didn't want to break the connection, remembering how difficult it had been to get a good seal in the first place. I thought I remembered seeing an airline at Big Lots and I decided that I'd buy it.

But I was feeling pretty tired by this time, so I thought I might take a nap first. But after I lay down, I found myself unable to sleep, so I got up and went up to Big Lots, got the airline ($8.99 for 50 ft), and returned home and began to install it.

I ran it through the hole I drilled in the concrete floor for the tv cable since I won't need that any more. I was surprised that it fit. I thought I might have to enlarge the hole and I didn't really want to get into that. It had been such an ordeal to drill it through the six inch concrete slab in the first place. But when I tried to fit the extension cord through the same hole, it wouldn't fit.

My idea was that I would run an extension upstairs from the basement so that I could turn the compressor on by plugging it in up here. To this end I had cut the end off the smaller extension that I had just repaired the other day, because the plug was definitely too big to fit through the hole. But since even the cord wouldn't fit, side-by-side with the air hose, I looked around for another solution, in the form of a hole through the floor. The only likely candidate was an unused gas line that used to feed a space heater in the living room that I had removed when it stopped working. There was absolutely no space along the gas line to fit the extension, but I discovered that I could easily unscrew the metal pipe connections and pull the pipe up through the hole to clear it. I wouldn't even have had to cut the cord, the hole was that big.

After repairing the cord again, I routed it down into the basement and made the connection. Now all I've got to do is get the adaptors to make the air brush a snap-on air connection, because I'm not about to go unscrewing it every time I want to change air brushes. And while I'm at it, I guess, I'll invest twenty dollars in a good regulator, because I'm tired of playing around with trying to find the exact lowest pressure point where the brush will work without losing its pressure every time I want to adjust it back down from a higher setting.

At this point, I want to run out to Home Depot to get all the stuff I need. But I can't make it. I need sleep. I crash.

Life is my addiction and words are my fix. Dreams overtake me and life brings me back, trapped into a present that will not let me go. I say that this is what I want, an eternal momentary release, but it's not, really. It's a theory that I relieve through meditation, but then I return to a different present that I choose not to see as such, but as a prison, from which I escape via words, as if they are a solution, when they're exactly a part of the problem, just as if I were addicted and had to relieve the withdrawal with more created concepts, which make me feel better, but which leave me wanting after a while, when I will leave them.

I love to write, and to read what I have written. I call it editing, and it is, but it's so much more. [Often, when I'm re-reading what I've written, especially the stuff I've posted that has been re-written a lot, so that I don't have to make so many corrections to it, I find myself rocking back and forth in front of the computer screen as if I were an orthodox Jew standing in front of the Wailing Wall. It's therapy, and prayer.] It's self-inflicted feedback, the knowledge that I have written, that I am so clever for having expressed what was on my mind, or purged what had accumulated in it, much like having consumed the meal of a world of input and excreted the residue after having taken nourishment from it. (I'm going to stop here now, before I mix any more metaphors.)

Whatever it is, I'm against it.

Groucho Marx

Revolt. Rebel. Vote No. Vive La Revolution. I awaken this evening feeling particularly ornery. Contrariness for its own sake. I rarely suffer from matutolypea1, my sense of rebellion being not so organic as cerebral and neurotic, re-defined each day, if it will be activated, after I am awake and functioning. So this awakening state grabs my immediate attention. I think I'm going to create a website devoted to this topic. But maybe not. It seems like there should be a lot of sites already with more devotion to it than I could ever maintain. I'm going to go and research it now.